Life grows best when watered daily with good music.
Those who get too big for their pants will be exposed in the end
A boiled egg is hard to beat
When fish are in schools they sometimes take debate
A thief who stole a calendar got twelve months
The fact that there is a Highway To Hell and only a Stairway To Heaven says a lot about anticipated traffic numbers
What do you call a funny mountain = Hilarious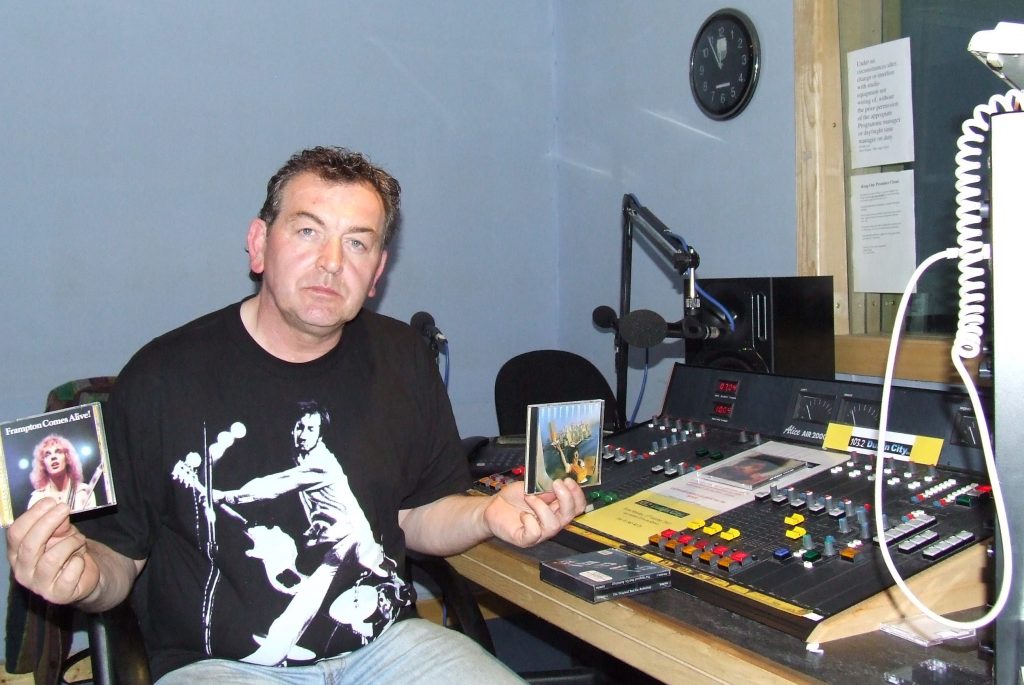 Duane Eddy – Because They're Young 1960
New York born guitar hero who had a string of hits in the late 1950's early 1960's. using his signature echo laden twangy lead guitar technique on the bass strings of his guitar. Because They're Young was a teenage movie and his song of the same name became one of his most famous hits. Ever wonder why you're in a movie but you're on television.
Old & In The Way – Wild Horses 1975
The self titled classic bluegrass LP recorded in San Francisco in 1973 featuring Jerry Garcia on Banjo with one of my favorite covers. Jerry was a bluegrass banjo player before the Dead and teamed up with some like minded bluegrass fans like Peter Rowan for this project.Jerry Garcia was an experimenter always willing to take chances live which resulted in playing that ranged from magical and incendiary to downright fumbling. Jerry used to say recording is like building a ship in a bottle while playing live is like rowing a boat in a storm. This session was sublime.
Fats Domino – Kansas City 1960
Kansas City was a hit for Fat's Domino in the early 60's. The song was written by the classic rock and roll songwriting team of Jerry Leiber and Mike Stoller of Hound Dog and Jailhouse Rock fame and 70 plus more chart hits. New Orleans most famous musical son Fats Domino has been a huge influence since he introduced the world to his bouncy boogie keyboard technique. A shy humble man who is held in the highest regard for his music.
Birds Of Chicago – Dim Lights Of The Palisades 2016
Love this band since seeing them upstairs in Whelan's a few years back. A hard working traveling family constantly touring from Chicago who makes the most uplifting soulful music full of gorgeous harmonies and melodic grooves.Hard work is the yeast that raises the dough when you are career musicians.
Beach Boys – Darlin' 1967
The Beach Boys make the best sunshine music on the planet. Beach Boys released this as a single from the Wild Honey LP in the original Summer of Love 1967.
The secret ingredient behind all the Californian Surf and Beach Fun and Rollicking good time music was some premier session musicians called The Wrecking Crew developing Brian Wilson's ideas in the studio.
Chris Smither – Leave The Light On 2006
Connected with the wonderful New Orleans born Boston based singer songwriter Chris Smither back in the early 90's and have accumulated a treasure of his music by attending his gigs in Ireland ever since, each one a cherished memory of his unique open hearted performances. Its like going along to reunite with a relative home from abroad such is the intimate warmth of the atmosphere. Humorous catchy bruised and beautiful lyrics on a bed of finger picked acoustic country blues rhythm & lead that flows like silk delivered with a toe tapping smoldering vocal. A folksy troubadour Chris hooks the audience and buoy's the spirit with his openness and refreshing perspective on the world because like all the great artists I have known he is a contender who has found his groove, an inspired soul who can let it flow and give to others. He road tested some new tunes in advance of his next studio session at the end of this tour, a great tribute to the late Chuck Berry and with his loose easy confidence refreshed the evergreens with flourishes of magical subtle and complex guitar picking to the delight of a full house.
Our own black leather clad blues belle from the north country Clara Rose opened the show with a high energy wholehearted set. Playing a gorgeous jumbo Gibson acoustic guitar Clara Rose delivered a fine mix of tunes with a roof lifting vocal on Big Mama Thornton's Ball & Chain that in all probability left a few goldfish homeless around Portobello
Steely Dan – Deacon Blues 1977
Looking forward to seeing Steely Dan live for the first time this October when they play Dublin. Superb sophisticated musicians who define the word perfection for me. It is said that the closest a person gets to perfection is when they are filling out their job application form.
Chip Taylor & Carrie Rodriguez – Angel Of The Morning 2004
A fun guy who has enjoyed his life and made some great music along the way. This was my first time really connecting with Angel Of The Morning apparently it's been floating around my universe for decades, the time and context was right to bring it into my life. This happens me a lot with songs that passed me by while I was hitchhiking through life.Really enjoyed Chip Taylor's performance in the DC Music Club for so many reasons such is the charm and life he unfolded for us in conversation and in song with the excellent John Platania (Van The Man, Don McLean, Guy Davis) lending his tasteful electric guitar fills and occasional harmonies to proceedings. Chip born John Wesley Voight shared warm and intimate stories about his famous brothers Jon and Barry and his niece Angelina all reflected in the best possible light. Chip has been around and reminiscence fondly about his famous songs Wild Thing and Angel In The Morning and such is his gift for writing a good song I fell in love with many of his songs spontaneously on the night such is the feel-good vibe he wraps around his tunes and the atmosphere.
Many people miss their share of happiness not because they never found it but because they didn't take time out along the way to enjoy it and Chip comes across as someone who has never missed out his due of happiness in life. As well as being a legendary singer songwriter he has also been a professional golfer and gambler along the way.
Well done Paul Lee and DC Music Club, no road is long with good company and the journey through life doesn't get any better than Chip Taylor keeping you company in a room full of respectful fans.
Gov't Mule – Soulshine 1994
Seen Gov't Mule live in New Orleans on my way home from the Jazz Festival when they coincidentally were playing a local venue. Amazing amount of merchandise and a full house of dedicated fans. Gov't Mule carries on that great American Rock tradition of the Jam Bands like Grateful Dead and The Allman Brothers just letting the music takes its exploratory course on stage. Music washes away from the soul the dust of everyday life.
Dublin Review 2017
American Southern Rocks finest axeman Warren Haynes was on the boards in Dublin's Academy tonight making his first visit to Dublin's fair city with his well oiled funky rock blues and jazzy Gov't Mule band. Screaming bottleneck Gibson guitar magic, wah-wah and soaring wide angle bends bouncing off of the well calibrated rhythm section that drives and drives along in pure psychedelic Allman Brothers Grateful Dead American Jam Band tradition. Gov't Mule is as tight a rock and roll you will see on stage with the individual talents of Matt Abts on Drums, Jorgen Carlsson Bass and Danny Louis on Keyboards and anything else he can get his hands on combining to exceed the sum total effortlessly which comes with years and years of cohesive empathy on stage. Gov't Mule are a full marathon event with a break in the middle to allow the audience come up for air. Warren Haynes loves his guitars and brings in flourishes of his heroes guitar styles into his own soulful stream of playing smiling to himself when his journey along the fret board suddenly collides with an old Jimi Hendrix, Jimmy Page, Paul Kossoff groove swinging along from road house blues to jazz fusion in the blink of an eye. There is a power and beauty in Gov't Mule's live music experience that breaths new life into the imagination that is indescribably euphoric. www.mikthewho.com
Herbie Mann – Memphis Underground 1969
The joy of my relationship with music is that every year I connect with something that has been out there all my life and suddenly it totally overwhelms me with amazement and infatuation. Herbie Mann made this wonderful music back in 1969 with Tom Dowd at the buttons in Chip Moman's Memphis Studios with Larry Coryell on guitar. I often don't know whether I should be annoyed with myself for missing out for so long on music like this or whether the time is just right to appreciate it as much as I do. It's a reminder that the hopes of the world rest on the flexibility vigor capacity for new thought and the fresh outlook of young creative minds to harvest the best of past and brew up a whole new refreshing creation.
Jim Suhler – Tijuana Bible 2009
Jim is a beautiful Texas guitarist who embodies everything that is exciting and clean about the Texas Blues Rock style in particular following in the tradition of Freddie King, Stevie Ray Vaughan, Billy Gibbons and Angus Young and our own local hero Rory Gallagher who is credits regularly in performance as a huge inspiration behind his fretboard magic. Witnessed Jim played a magnificent set at the Swing Wespelaar Blues Festival in Belgium demonstrating his blend of high energy Texas Blues Rock in its full live glory. There are artists who have a flame or charisma that is unique and Jim is on my list from now on. https://jimsuhler.com/, http://www.swingwespelaar.be/
Gary Lewis & The Playboy's – She's Just My Style 1965
Gary Lewis son of the late Gerry Lewis had a string of hits in the mid 60's with upbeat harmonies and Beach Boy rock and roll style gems like She's Just My Style which featured some great musicians in the mix like Jim Keltner (first session) and Leon Russell (co writer).Happiness is not in the mere possession of success; it lies in the joy of achievement in the thrill of creative effort
Pete Townshend – Save It For Later 1986
Pete's cover of The Beat's Save It For Later from his solo mid 80's period. The story goes Pete was working out his interpretation of the tune with Dave Gilmour and rang Dave Wakeling to understand the Open tuned chords. Pete created some great solo collaborative music with his cohorts and peers over the years.
Sam Cooke – Sad Mood 1962
There is a sadness that grabs me when I hear Sam Cooke sing which brings to mind an artist with heart wrenching perfection in his voice to interpret emotion in a songs lyrics and the tragic false confidence and human waste of that talent being shot during a wild night in a motel chasing his demons.
Be cautious. Opportunity does the knocking for temptation too.
Bernard Allison – Slide Master 2010
Seen this fantastic entertainer play at this years Swing Wespelaar Blues Festival in Belgium in August. http://www.swingwespelaar.be/
Following in the footsteps of his Dad Luther Allison who blew me away with his live incendiary guitar performances back in the 90's before he sadly left us for the great beyond I was thrilled to connect with his son's music, a relationship that promises to be equally satisfying. Slide Master is on The Otherside album a gift from Dublin City Fm's Bluestrain Driver Charlie Hussey a few years back and the soundtrack for this years blues travelling adventures.
Irma Thomas – I Need Your Love So Bad 1964
I grew up with Peter Green & Fleetwood Mac's version but I am constantly reminded of my love of music to go back to the original inspiration for the complete experience. Allen Toussaint was at the buttons in 1964 capturing the soulful gospel vibe supported by musicians who play perfectly in support of the song. When I stumble across a song impact and connection like this it makes me feel I have found my own soul. Just spent a week following the path of Hurricane Irma on the news and time and again it associated with the only Irma I know.
Colette Cassidy & Nigel Clark – After Hours 2017 www.cassidyandclark.com
Since first connecting with Colette Cassidy and Nigel Clark in JJ's a few years back my mission was to pick up their new album Confetti Falling In The Rain and reconnect with a live interpretation of the new tunes which brought me in the serenity of the fading sunlight on the longest day of the year to an album showcase gig in Arthur's Blues & Jazz venue on Thomas Street one of the nicest performance spaces in Dublin.
Colette has a very lovable charisma and creates an atmosphere that is comfortable, relaxed and profoundly personal as she relates the inspiration behind her lyrics which are performed passionately with her voice and the voice of Nigel's rich acoustic guitar lines harmoniously cooperating seamlessly. The sound was mixed perfectly for the room with Nigel accuracy and sensitivity briskly wielding his plectrum and fingers with finesse across the top, middle and bass strings of his mixed single line and chord passages amplified with an Oktava Drum Microphone that reflected every subtle nuance and reverberating overtone. A perfectly realized arrangement of Kate Bush's The Man With The Child In His Eyes was stunningly beautiful and the Confetti Falling In The Rain songs are a delightful listen and spontaneously intoxicating because they have a fresh, breezy air and carefully crafted pride about them. Even the opening chords of David Bowie's Jean Genie got a mention. As a guitar lover, I reckon it would take me two lifetimes and six hours practice a day to achieve the light touch, groove and tasty innovative soloing in Nigel's playing.
When you're in the company of artists who do their work well, that pride in their work nourishes the mind and spirit of all who connect with it. Life is good when you use life to provide something that will last.
Smokey Robinson – Being With You 1981
Being with you today is worth all the broken hearts of yesterday.
Smokey made a chart comeback in 1981 with this beautiful groover. In a simple twist of faith, Kim Carnes was at No 1 with Bette Davis Eyes having scored previously with a remake of another Smokey Robinson track. Smokey wrote Being With You for Kim but his manager persuaded him to record it himself and he ended up in the No 2 spot behind Kim's monster hit.
Ray Charles – Them That Got 1962
Always a winner Ray Charles had it all when it comes to an encyclopedia of music talent, barrelhouse, back alley, sophisticated pizzazz. An ace musician perfectly in control from the cotton fields to the bright city lights he had a suave assurance and authority, technical vision and imagination. An artist like Ray Charles effects eternity you can never tell where his influence stops.
Tift Merritt – Wait For Me 2017
I have been a fan of Tift Merrit for many years after connecting with her song Broken and following the trail from there. Tift is a very likable performer on stage and always creates a warm atmosphere for her gentle catchy songs with an equally fragile beautiful voice that is mesmerising to my ears. I am looking forward to her visit to Dublin's Olympia on the 27th Oct opening for Jason Isobell an artist I have not seen yet but will now resulting from this happy coincidence.
Gregory Abbott – Shake You Down 1986
An earlier version of this musical therapy of compiling a soundtrack for my life was done by way of C90 tapes from my old tape 2 tape machine. I listened to one of those tapes recently and it reunited me with Gregory Abbott's big production sound and Shake You Down the debut single that went viral around the globe in late 1986. Gregory was married to Freda Payne of Band Of Gold Fame in the 70's and started of singing with Whitney Houston before developing his own career as a Singer Songwriter Producer. I often think some artists appear in my life as if scanned by a searchlight and then disappear when the light moves on to some other attraction in my life
JR Walker All Stars – Hot Cha 1965
First heard Dave Specter's wonderful delicate guitar interpretation of Hot Cha on his Speculatin album and eventually made my way back to the original mid 60's Motown soul classic B Side of Jr Walker's Shotgun. The song was credited to one of the All Stars Willie Woods part of the Motown machine wall of sound.
Johnny Cronin – If You Ever Knew My Name (2015) https://soundcloud.com/johnny-cronin
Johnny is a Swords man a member of a very talented family who I had the pleasure of hanging out with in the wake of the Live Aid Festival until Johnny went down under to make a new life and some great music about his hometown. I was in the first class of the Christian Brothers Secondary School in Swords and spent a lot of time in the locations mentioned in Johnny's songs. Was invited back in Sept to celebrate the 50th anniversary an event that helped me redefine my attitude in a positive sense towards those days meeting old pals who have created the best version of themselves possible with or without results. Johnny played a fine set of his songs in The Pound in Swords on his recent summer visit home to the auld sod.
Chick Corea & Béla Fleck – Mountain (Live) 2015
Enchanting is the only word to explain the amazing musical collaboration and creativity of Béla Fleck's banjo and Chick Corea's fluent jazz piano performing together on the delightful National Concert Hall stage a performance space deserving of such fine musicianship.
Virtuoso Béla brings the full range of colours out of the banjo in a playful cat and mouse improvisation with Chick Corea's piano that is like a rollercoaster ride for the banjo and piano, a master class of playing in the moment taking it to the top and pushing each other on a journey that redefines both instruments ability to adapt.
The combination of these two great musicians on stage sharing their thoughts on the music and their experiences with this marriage of banjo and piano is funny and entertaining with the conversations covering everything from being in purgatory (Dallas Airport), Larry David (Curb Your Enthusiasm) and an impromptu birthday celebration for Béla much to his surprise once the Happy Birthday greeting was flagged up by a member of the audience.
The banjo has been around me all my life and my connection to this musical adventure has helped me get past decades of associating banjo music with Dublin back lounge sessions hearing the notes in a reduced state of awareness to distressed images of Ned Beatty meeting some relatives of a banjo player in the backwoods of the Cahulawassee River but I have never witnessed this instrument played with such bewitching mastery, assimilating bluegrass, melodic Scruggs style and single string techniques, unusual chords and scales born way beyond practice and found only in God given talent
Jimmy Burns – 1959 Revisited : A Tribute 1999
Picked up this album at a Chicago Blues Night in Paris which also featured Dave Specter on stage and Nora Jean Bruso in the plush surroundings of the Lionel Hampton Jazz Club at the Meridien Etoile back in 2004. Few years later I was in Chicago and met the Michael Dotson who plays on the album. Seen Jimmy at the recent Swing Wespelaar Blues Festival in Belgium and he was in top form on stage.
Morcheeba – Part Of The Process 1998
This song came back into my life recently and although it's been around since the late 90's I just get high on its energy and the gorgeous voice of Sky Edwards at the moment. Sometimes a song can be around you for years just waiting to unfold and reveal itself.
The Handsome Family – Gold 2016 www.handsomefamily.com
The Handsome Family are a much loved live gig in Ireland and have built a dedicated following over many years and tonight I made it at last to join the fan base of Brett and Rennie Sparks in Vicar Street in Dublin's fair city. There is a hopeful endearing optimism sweetening the dark humour in the well crafted songs and tight arrangements creating an ambiance and atmosphere that is evocative and moody dark and sexy. Rennie gives you a piece of her mind on matters that matter in life by way of an introduction to each song and The Handsome Family give you their hearts in the music that is rootsy reverb drenched punk inspired absolute magic Americana soundscapes. There is an innate natural quality within great musicians that compels them to make music that gives and gives of themselves so passionately and creatively that it renews our own lives with the joy and pleasure it conveys. Two people who belong together making the world a better place with their artful music and goodness real musicians making music the old fashion way. I got to know Brett and Rennie's current hometown Albuquerque through Walter White and Breaking Bad and Brett updated me on some of the locations including an apartment used by Jessie and his girlfriend close to one of their own old apartments. A great gig picked up some lovely vinyl and got to meet the musicians the perfect fan experience for me.
www.mikthewho.com
The Everly Brothers – ('Til) I Kissed You 1959
Clever original songs with harmonies that were a genetic tour de force all adding up to good time music that centred the most contagious vocals ever to infect an ear drum.
Bap Kennedy – Good As Gold 2016 www.bapkennedy.com
After Bap passed I discovered and pledged support to this unfinished album on his web site and a few months later his music in the shape of beautiful vinyl LP with a kind note from his wife Brenda filling my head and heart with delight. The importance of music to someone like Bap and to people like myself who see life through an Asperger lens is a realization that is strong in his songs. Never give up hope, fractured is never broken.
Billy Nicholls – Without Your Love 1976
My journey to Billy Nicholls was by way of Pete Townshend and their shared devotion to Indian Guru Meher Baba. Without Your Love was a hit from the McVicar soundtrack back in the late 70's but it is always intriguing and surprisingly enjoyable to hear the original. Forever Is No Time At All is another of Billy's tunes which was also on Pete's Who Came First solo LP. Happiest is he that expects no happiness from others.
Rhiannon Giddens – We Could Fly 2017
When you are the person you should be you can set the world on fire. Rhiannon Giddens is such a person a breath taking performer whose music is inspirational, honest and crucial if we are to understand the pain and suffering people have gone through on this planet just to survive. Her music is real and her performance always swings back to optimism and hope.
Bill Evans – Theme From M.A.S.H. 1983
First time I saw Olivia Trummer play in JJ's I asked her what her desert island disc might be and she guided me in that conversation to Bill Evan's You Must Believe In Spring album which I never tire of listening to ever since. Recorded a few years before he left us for the great beyond this gentle beautiful music is his antidote for the wear and tear of life. Of all the things you wear your expression is the most important especially in music.